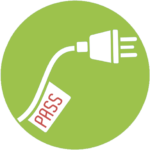 ► Avoid heavy fines and ensure your business remains OH&S compliant
► Keep your staff and customers safe
► Enjoy peace of mind knowing the work is completed by qualified professionals
► Receive detailed reports and timely reminders for when the next testing is due
Test and Tag Intervals: How often do I Test and Tag?
For the most common environments, we recommend the following frequencies:
3 months: building, construction and demolition
6 months: factories, warehouses and production
12 months: an environment where the equipment/supply cord is prone to flexing or open to abuse
5 yearly: an environment where the equipment/supply cord is not prone to flexing or open to abuse
Just as important, the AS/NZS 3760 standard should be seen as a minimum requirement. A lot of workplaces will have different test and tag frequencies because of their own risk management and OHS planning. Likewise, some of these industries might require you to use certain Test and Tag Colours.
For construction or demolition, you are required to use specified test tag colours.
If you don't work in those industries, you can use your own colour coding system.
What items should be tested in my workplace?
Typically any electrical item that has a power lead that is plugged into a power point needs to be inspected, tested and tagged on a regular basis.
For some types of equipment or electrical items, the frequency of testing is more often where there is a higher safety risk or where there is likely to be greater use and wear. For example, a tradesman or a carpenter has a higher risk factor and needs to have their electrical equipment tested more often than a computer in a standard office.
There are some types of items and equipment like "hard wired" electrical fittings that do not need to be tested and tagged.
What areas of my workplace do I need to test and tag to remain OHS/WHS compliant?
It is essential to test and tag all portable and non-portable electrical appliances with a flexible and detachable supply lead in your workplace. Portable appliances are located in more areas than you may realise; like the office kitchen or construction areas.
Approved Systems Test and Tag Services covers all areas in and around the Australian Capital Territory (ACT / Canberra)
Please feel free to contact us on 1300 139 257 or 02 5100 6444 for a Competitive Quote.